Thriving to Help our Community: Chilled Chicks and GoFundMe
Despite our name we're well aware that it isn't easy to be a chilled person in today's world!
Chilled Chicks is an innovative new company that uses group settings and art activities that create opportunities for women  to support each other, create community and get to know and appreciate themselves better. Research has shown that when people are connected to community, they have a higher motivation to support it and continue to grow within it. We also know that using the creative parts of our brains lends to a higher efficiency of learning and applying new concepts. When one woman has increased capacity in her life, through strength awareness and positive language, she passes this on to other women who pass it on to their families. It is a domino effect of change. We've seen it happen! We'd like to put that in action.
Who are we?
We are a trio of women with varying backgrounds and loads of experience – social work, education, art and holistic healing . We have created unique workshops that educate about self-esteem, self-awareness and storytelling, employing a one of a kind blend of western and eastern philosophies.  This process guides people through an enlightening morning of education, connection and an afternoon of accessible art to integrate the morning's teachings.
In short, our mission is to support women and benefit everyone in our communities! We aim to do this with:
●       Workshops like Everyday Supehero, Uniquely You, Skilss for Serentiy, and Art offerings like Magic Mandalas and Spirit Medicine bags. www.chilledchicks.com/retreats
●       Custom tailored workshops for each group's needs no matter who they are in every sector of our population – corporate team building, organizations, family or friend events as well as schools
●     Education and Art that anyone can wrap a paintbrush or pencil crayon around (yes, even you : )
●    Daily inspiration and motivation on our Facebook Page , Our Blog ,Pinterest, Brandiland  and Twitter

●       We use a percentage of our profits to support non-profit organizations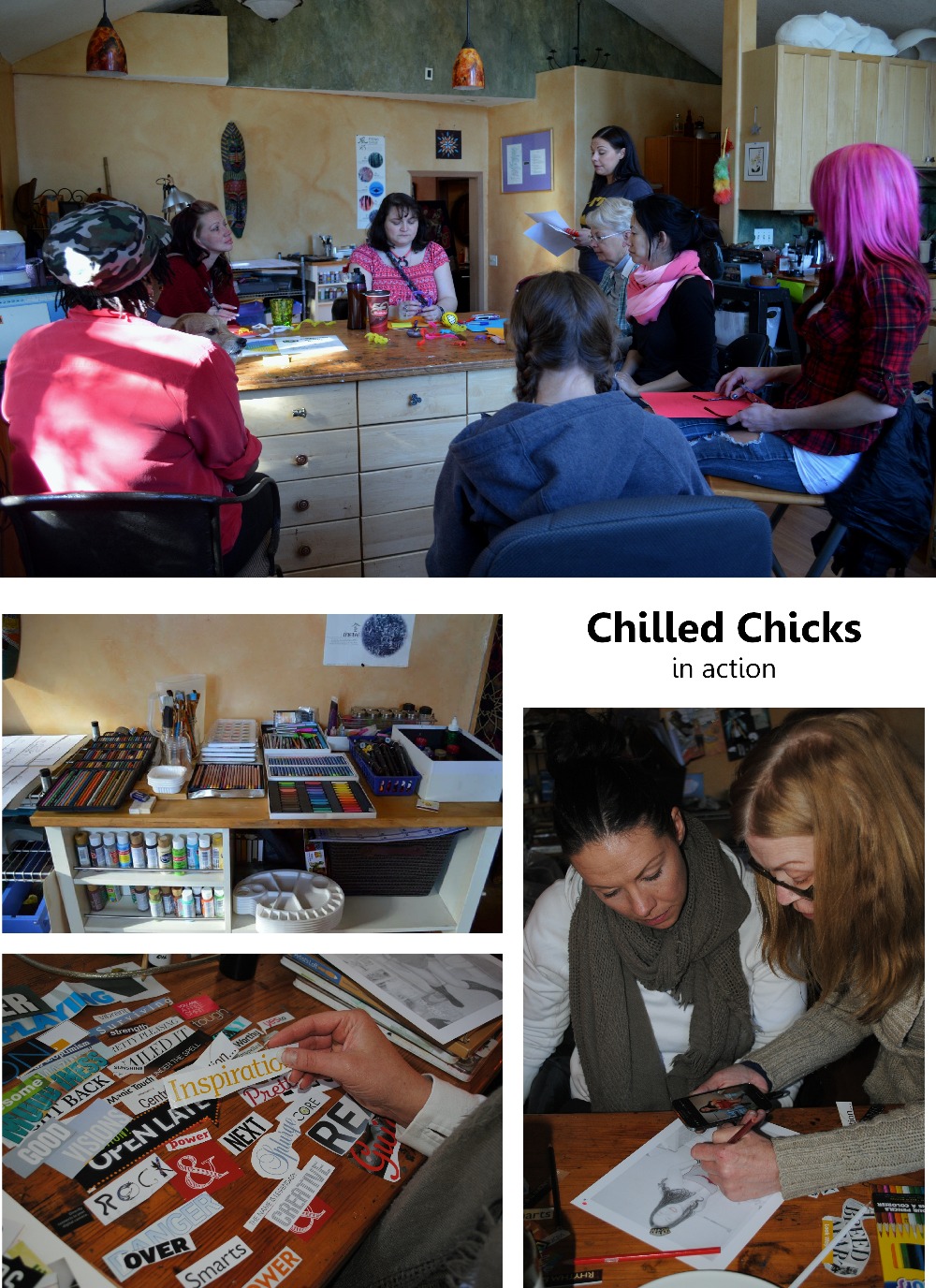 What some of our guests have shared:
"I'm walking away feeling peaceful, grounded and understood. Thank you so much for this experience!"
"I feel not only closer to my own spirit, also feel closer to all of the beautiful ladies here today. I feel discovered."
"It made me feel 1000x more creative and feeling very blessed to have those ladies in the world."
"Lifted my spirits, made me aware of myself and those around me."
"I can't wait to bring my mother in, she will love it!"
What we will use our funding for:
● We want to be able to move forward on sontracts that have been proposed by loac school at the beginning of the school year in 2015
●      Development of community workshops for non-profit organizations. starting in Fall 2015
●       Access to technology such as laptops, printers and cameras that our clients can use.
●       Purchase of increased variety of art supplies &  mediums.
●       Advertising and paid social media campaigns to increase the capacity of our workshops.
●      Printed materials and development of downloadable workshops for teachers, students and personal use.
●       Operating costs for the art studio associated with developing and expanding the artspace.
●       Mobile expansion of the company outside of our art studio in Bragg Creek
●       Continued  development  of products that support the long term beneficial health of individuals including aromatherapy and essential oil products, holistic jewelry and items to boost the spirit.
You can help us reach our goal by simply sharing our story  – Chilled Chicks GoFundMe Campaign